Preparing for Leadership
Changing Ladders
Role of Leader
Common Transition Traps
Secret to Leadership Success-Leadership Vision
Personal Leadership
Leading Self- Personal Motivation and Self-image
Self-Management tools
Relationship Building
Building Trust
Stakeholder Management
Conflict Management
Team Management
Delegation
Giving Constructive Feedback
Discover mindset and practical tools to enable you to succeed in your new managerial role.
Develop an action plan using the above to cultivate skills to manage effectively.
The New Managers develop an understanding of their new role and the changes they need to implement to be successful in the transition from being an individual contributor.
The New Managers are equipped with the essential skills and attitudes required for being effective in People Management.
5 days Virtual Training Program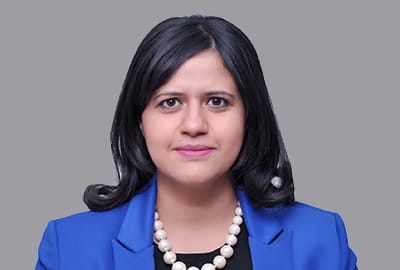 Facilitator, Executive Coach 
Ruchika's work encompasses working with Managers-Leaders in organizations to help them understand their preferred leadership style and how it impacts their team performance and business results. She is a certified Professional Behavior Analyst (CPBA®) certified in the DISC system.
people who have recently moved from  an Individual contributor to a Managerial role