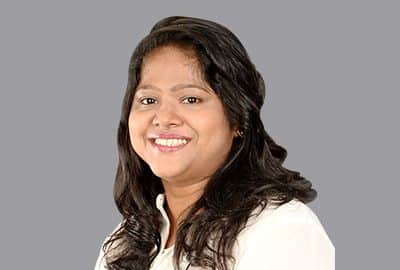 Work Specialization
Anitha conducts programs for Junior-Top Management like Leadership Development Programs, Executive Coaching, Manager as a Coach, Managerial Development Programs, Soft skills Programs to achieve business results. She also works as a HR Consultant for OD efforts in organizations. Her expertise is in coaching professionals to achieve business results
As a Facilitator:
Anitha has facilitated over 50 programs across levels. She facilitated multiple workshops on Performance Management, Managerial Skills, Leadership Skills, Employee Relations, Objective Setting Sessions, Organizational Design & Transformation and the like
As an Executive Coach:
Anitha is a certified coach (ICF ACC Credential) who has trained 140 hours with Leadership that Works
She has provided individualized Coaching support to individuals in the Corporate Sector for their development and growth
She works with GAP & Cherie Blair Foundation and coaches women entrepreneurs and social entrepreneurs across the world and in India. She has also worked with a few more social ventures as a coach
Is familiar with 360 degrees, Hogan and a wide variety of tools as a base instrument for coaching.
Experience
Anitha Balaraj is a HR Professional with over 12 years of experience in diverse HR verticals – HR Business Partnering, Learning & Talent Development / OD, Performance Management and HR Consulting. As a part of KPMG Human Capital Consulting, she has delivered on multiple consulting engagements in the area of Organizational Restructuring, HR Systems and Process Design. Her specialist and HRBP experience in Scope and in BASF makes her an expert in Talent Assessment & Development, Employee Performance Management and various facets of HR Business Partnering. Anitha is passionate in applying her HR & consulting expertise towards helping organizations scale up in their transformational journey.
She also coaches leaders, professionals & entrepreneurs with a special focus on women and millennials.
As a Facilitator: She has conducted more than 50 programs over the past 10+ years, as an internal and external facilitator
As an Executive Coach: Anitha has 150+ hours of one-on-one Coaching
She works with a reputed coaching firm called Betterup based out of San Francisco, which works with professionals in tech majors based out of the Silicon Valley
As an Assessor: She has assessed many candidates using a wide variety of psychometric tools in multiple settings for recruitment and development and promotion. She has been part of many assessment centers as an assessor.
Sectors Served: IT – Manufacturing, IT, Banking, Finance, Health care, Insurance, Telecom, BPO, Hospitality, Research and Development, Food Logistics, Pharmaceuticals, Consulting, FMCG, Construction, etc.
Clientele: WorldBank, CMA CGM, GAP, Swasth, Cherie Blair Foundation, MSSW, Aon Hewitt, Betterup.
Certifications
ICF ACC Credentialed Coach certified from Leadership that Works, Hogan Certified Practitioner, Train the Facilitator from Dale Carnegie, Thomas certified practitioner in PPA-HJA, GIA-TST tools, Playback Theatre Advanced Certification, Mercer International Position Evaluation Certification, Competency based interviewing certification and Advanced Consulting Skills and HR Business Partnering.
Academic Qualifications
PGD – PMIR from XLRI Jamshedpur (Equivalent to MBA-HR) [2004-2006]
Gold Medalist in the areas of Organizational Behavior, Industrial Relations & Personnel Management
Bachelor of Engg – Electronics & Communication from Madras University [2000-2004]
Persona
Anitha enjoys her solo time with activities like reading, writing and self-reflection. Constant development of self is foremost on her mind. She has travelled widely across many countries and loves interacting with people from different cultures. An ardent foodie, she enjoys meeting friends for coffee or dinner and has an eclectic set of friends who introduce her to different movies, art forms and the like. She is very passionate about helping individuals realize their true potential.