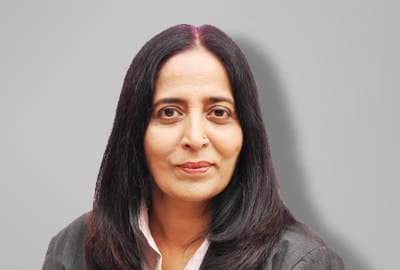 Full Profile
Work Specialization
Dr. Kalindi is adept at facilitating Senior Leadership Development, Managerial Development, Training-the-Trainer, Personality Development, Interpersonal Skills, Team Building, Effective Communication Skills, Advanced Communication Skills and Emotional Intelligence Programs.
Being an Emotional Intelligence (EI) and MBTI certified assessor, she is adept at interpreting MBTI assessment results and coaching people to practice EI for achieving results with joyful effectiveness.
As a Facilitator: Dr. Kalindi has facilitated programs across levels. She has helped participants develop life-transforming skills related to Communication, Assertiveness and Interpersonal skills to increase team-bonding and collaboration. She has also honed the managerial skills of First Time Managers, enabling them to ease into their roles quickly and effectively. With Middle and Senior Managers, Dr. Kalindi has helped them acquire leadership skills and take up more responsibility in their organizations
As a Coach: Dr. Kalindi is a Certified Coach who has completed the 40-hr Coach-Training from Results Coaching based on the International Coach Federation (ICF) Core – competencies. She has trained Leaders to acquire Coaching skills and thereby become effective leaders and mentors. She has also provided individualized Coaching support to individuals in the Corporate Sector for their development and growth.
As a Quality Systems Auditor: Dr. Kalindi is a Certified Quality Systems Auditor and has over 200 days of systems auditing experience in manufacturing, Hospitality and Education sector. This helps Dr. Kalindi in making leaders connect learning to their role better and have focused process approach.
Experience
Kalindi has close to 30 years of national and international experience across 20 countries, with over 25,000 hours of experience in facilitation and coaching.
She has over 15 years of experience as a Facilitator & Coach, 200+ programs as a facilitator (5000+ hours) and almost 100 hours of Coaching. Quality systems auditing Experience in Hospitality, Manufacturing, & Education sector, in India and abroad.
Sectors Served: Manufacturing, Pharma, Finance, Telecommunication, IT – ITES, Hospitality, Education etc.
Customers Served:
As a Facilitator: Dr. Kalindi has served some of the biggest names in the corporate world like Atlas Copco, SAS, Piaggio, SEMCO, Tata BP Solar, Vodafone, Tata Technology, Sandvik, Principal Finance Group, Indelox, Visteon etc.
As an Executive Coach: She has provided Coaching services to clients like Sudarshan Chemicals, Unitech etc.
As a System's Auditor: Dr. Kalindi has audited organizations like Biocon, IIT Chennai, Godfrey Phillips, Jain Irrigation Food division, Mahindra Club-Munnar, Tea Garden Darjeeling, MAS flight kitchens Penang – Kuala Lumpur.
Certifications
Certified Executive Coach, Certified MBTI Assessor, six seconds Emotional Intelligence, recently completed the Certified Assessor's Program: Designing and Conducting Assessment Centre's; Lead Assessor-Quality systems, Six-sigma green Belt and a Certified Hospitality Educator.
Academic Qualifications
Ph. D. in Human Resource Development.
2. Post-graduate in Business Management.
3. Post graduate diploma in Training & Development (ISTD)
4. Post graduate diploma in personal counseling
Persona
Dr. Kalindi likes being amidst people, interactions and conversations are her highs, informal meets over cups of coffee are her idea of quality leisure time. Not surprising since hosting comes naturally to Dr. Kalindi who is a Certified Hospitality Trainer from American Hotel Motel Association. Dr. Kalindi is working with rural women &children since 1991 and been successful in empowering women by making them self-sufficient. Dr. Kalindi is a reiki-master and an ssy-meditator. She is an Ex-Vice President for Indian Society for Training and Development, Pune and was also an executive board member of the Human Resource Development Network, Pune chapter.
Awards & Recognitions
Has published paper on rural women empowerment.
2. Has published an article on ISO 9000 and its application in Hospitality industry.
3. Recently presented a paper at IIT Delhi on "Spirituality climate and its impact on innovation in teams"
4. Dr. Kalindi has written a text book on Food and Beverage costing