Leadership
Training by
Pragati Leadership
Developing future ready leaders who co-create profitable, sustainable and joyful businesses with our leadership training solutions.
Leadership Development

Organizational Transformation

Developing Collaboration

Capability Building
Our Leadership Team
Leadership is the process of co-creating life-supporting futures that benefit all people, including the environment. It is about discovering and reclaiming the innate wholeness in ourselves and in the world; listening to how this wholeness is calling us to serve, obeying this calling through joyful action, and creating a space for others to do the same. It is about enabling others to bring forward their gifts in service to Life, together with others in a compassionate and caring community.

Arun Wakhlu

Founder Director, Chief Mentor

Consultant, Coach and Facilitator

Leadership is about bringing in positive change for the future. It is igniting hope and optimism among your team while keeping your vision sky-high.

Anu Wakhlu

Chairperson and Director

Consultant, Coach and Facilitator

I follow Max Landsberg's simple and powerful definition of Leadership - a product of Vision, Inspiration and Momentum. A Leader provides Direction through the Vision/Goals, Inspires others to sign up for the Vision and ensures that the required Momentum is provided for successful implementation of the Vision at all levels of the Organization.

Vibhas Joshi

Consultant, Coach and Facilitator

Leadership is akin to looking at the world through a bifocal lens. One needs to look at the next moment, the next day, the next month, and the next quarter to ensure that people are productively and creatively engaged. Leaders should ensure that the wheels of all key business drivers are in sync and produce extraordinary results. It's imperative that we invest in developing human capital of exceptional skills and mindsets. Also, it's necessary to ensure that the wheels of key business drivers build agility and momentum for a better future.

Manish Gupta

Consultant, Coach and Facilitator

Leadership is that magical element in an organization that transforms organizational talent into a winning team, which achieves desired business outcomes.

Krishnendu Sen

Head of Sales & Marketing
Who We Are
For organizations aspiring to achieve breakthrough results, Pragati
Leadership training
program offers powerful learning solutions to accelerate leadership effectiveness and talent performance at all levels.
For more than three decades, we have been partnering with our clients to create engaged and productive/effective workplaces through our agile and highly customised solutioning approach.
Blog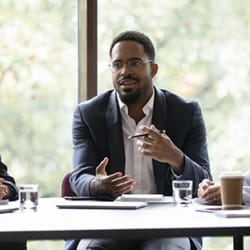 Explore