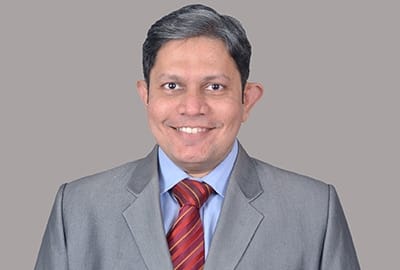 Work Specialization
Sushil is adept at Training leaders, managers and frontlines on leadership, managerial effectiveness, role-based competencies, personal effectiveness, sales and client relationship. He is an effective Group Process Facilitator helping organizations have meaningful change conversations. He does performance coaching for managers; he consults on learning and development projects, drives learning journeys and vision mission and values roll-outs.
As a Facilitator:
Sushil's standout quality is his background in customer acquisition, customer retention, operational excellence and managing cross cultural teams in leadership position. He is known for his ability to tell stories and share examples that makes learning simple, relevant and help retention and recall. His business friendly approach helps participant relate to him. He insists on detailed and in depth pre-study to enable highly customized learning journeys. This also helps him speak the industry and business language during workshops. He has facilitated programs across levels, across industries in India, Srilanka and Thailand.
Experience
Sushil started his career in 1995; he has worked as a sales professional for two years with Standard Chartered Bank and then Modi Xerox. Six years in leadership position in Marketing, Business Operations and Franchisee Management with an IT training company (Boston Education and Software Technologies), Eleven years in Corporate Training & L&D Consulting as a Business Head and Principal Consultant (Siksha) managing business development and operations in India and past 5 years as an L&D Consultant doing training for some of the leading Indian and Multinational organizations.
Customers served:
Partial List of Customers: IBM, Cognizant, Accenture, ANZ IT, AXA BS, WNS, Viteos, Infosys, Mphasis, Firstsource, EY, KPMG, JP Morgan, PWC. Mckinsey, HDFC Bank, Future Generali, Max Bupa, Deutsche Bank, RBL Bank, Bank of America, BNY Mellon, ICIC Prudential AMC, Ashok Leyland, Volkswagen, Volvo Eicher, Volvo Construction Equipment, Escorts Agri Business, Chrysler – Fiat, Mahindra & Mahindra, BASF, Fuchs India, Forbes Marshall, Schafer, Arihant, Mahindra & Mahindra, HUL, Johnson and Johnson, Fresenius Kabi, United Spirits, KEVA, Indofill Industries, Café Coffee Day, Titan, Tanishq, Prince Aga Khan Hospital, Result Marine, Essilor, Airtel, Mahindra Comviva, HT Media, Knight Frank, Reliance Metro,
Certifications
Certified Certified Strengthscope Practitioner
Certified Group Process Facilitator
Certified Trainer, Facilitator and Instructional Design from Carlton Advanced Management Institute, USA
Design Thinking Practitioner and member of the Society of Design Thinking Practitioners
TA Practitioner, pursuing diploma in Transactional Analysis from ICTA
ISABS (BHLP)
Customer Service and Tele-sales -Telephone Doctor, USA
Trained in Tele-sales and Customer Interaction at Standard Chartered Bank
Trained in direct sales and SPANCO Model of selling at Modi Xerox
Trained in Clinical Hypnotherapy from California Institute of Hypnotherapy
NLP Practitioner – with Richard Mc Hugh
Emotional Freedom Technique Practitioner with Vitality Living College
Graduate of a healing methodology "The Journey" with Rangana Rupavi Chowdhary – Vitality Living College
Academic Qualifications
Bachelor of Commerce from Mumbai University.
Persona
Sushil is driven by his values of Family, Harmony and Excellence. He believes he is a lifelong student of nature and humanity and seeks to learn from everyone and everything. He likes to live in the here and now and enjoy what the moment has to offer. His style of working is often compared to that of a swan gliding over the water, while he pedals hard below the surface. His calm demeanor hardly ever reveals the immense work he puts in and the pressures he manages to achieve goals and get things done. He is a movie enthusiast and an admirer of the performing arts. He has always supported causes related to education, taking care of the old and orphaned, and kids suffering from critical illness and will continue doing so.