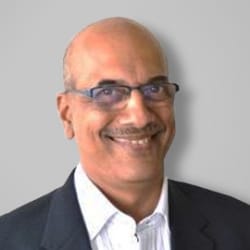 Consultant, Coach and Senior Facilitator
Vibhas is adept at facilitating Organizational Change & Transformation and Leadership Development programs for senior and top management levels. He specializes in facilitating workshops for evolving Strategies aligned to the Vision and Business objectives. For the last 15 years of his corporate career, he has held Directorial and Board positions at companies he worked for. He has made significant contributions in the areas of Business planning, streamlining of business operations and in People initiatives related to Performance Management, Competency frameworks and Learning and Development. As a Coach:
Vibhas has done 60 hours of training from FastTrack Coaching USA. The course is based on the ICF Competencies.
He has been coaching and mentoring senior and top level Leaders in the areas of Strategic Thinking, Decision Making, Stakeholder Management and Influencing.
Over 37 years and 15000+ hours as Consultant and Facilitator. 
Clientele: ACC Limited, Alfa Laval, Atlas Copco, Bank of America, Bayer, Credit Suisse, CEAT, Coca Cola, Eaton, General Mills, HDFC Bank, John Deere, Jones Lang Lasalle, KEC, Mercedes, Nihilent, Novartis, Nuance, Persistent, Reliance Capital, RBL, Religare, Tata Technologies, Sectors Served: Banking, Insurance, Manufacturing, IT & ITES across Asia, Europe, Africa, and America
Vibhas is certified in FastTrack Coaching, Strengthscope, Design Thinking, PMP, and Certified Scrum Master.
Masters in Physics
Masters in Management
Diploma in Computer Management
Vibhas is a very positive personality and is able to build relationships with people across age-groups and across different cultures. Being with Nature and Sports are his passions. Being in the midst of green trees and listening to the chirpy birds brings a great solace to his heart. And playing games like badminton or cricket gives him excitement and joy that he has always cherished. He believes in the strength of mind and the goodness lof heart. Integrity and Respect to all are key parts of his value system.
Vibhas received the Best Faculty Award twice in his tenure at Tata Consultancy Services for outstanding contribution to training to external and internal customers
He has presented a paper on Challenges in Global Software Development in Thailand at PM I conference