For over 30 years, Pragati Leadership has shaped corporate leadership across the globe, through learning and development initiatives. We have championed the brand of Wholesome Leadership which delivers the quadruple bottom line of Purpose, People, Planet, and Profit. We believe this route map transforms individuals into inspiring and successful leaders. Accordingly, the "Pragati Leadership Inspiring & Successful Leadership Awards 2022" aimed to showcase organizations and individuals committed to business innovation and growth. In this first edition of these awards, we recognized leaders from India's manufacturing and supply chain sector who inspired their teams and steered organizational initiatives toward success.
Pragati Leadership's long-term association with thousands of organizations and corporate leaders gives us a unique, unbiased lens through which we gauge excellence in leadership across industries and sectors. This breadth also gives us access to experts with deep knowledge and experience of corporate processes, whom we can trust to identify truly inspirational leaders deserving of recognition. This year's jury comprised prominent business personalities including Raman Chadha (ex Head Oil & Gas, Gammon Engineers), Satish Kumar Anavangot (Former MD, Henkel India Limited), Biji K. Kurien (Former MD – CPS Color India, Berger Paints, and Author), Dr. Sayalee Gankar (Vice Chancellor, D. Y. Patil University), S. Deenadayalan (Founder, Center for Excellence in Organization), and Anu Wakhlu (Chairperson and Executive Director, Pragati Leadership).
The first awardee chosen by this jury for felicitation this year, Mr. B. Santhanam, is the CEO of the Asia-Pacific & India Region at Saint-Gobain Group. An advocate of conscious capitalism, Mr. Santhanam has led high-impact sustainability initiatives while growing the Group's business in India – and at a faster pace than the Group's global average growth. Some of these initiatives include undertaking digital transformations, making manufacturing plants more efficient, commissioning a solar PV system, and developing an urban forest. Under his leadership, Saint-Gobain is also sponsoring the education of 40 girl students for 8 years. On the corporate side, by quickly resetting goals and chalking out a "survive, revive, and thrive" strategy, the company's India operations are growing at 60% of pre-Covid levels.
Acknowledging the recognition, Mr. B Santhanam pointed out that the Pragati Leadership team and the awards jury "exemplify people who set new benchmarks in manufacturing and supply chain". He credited his success to the colleagues who helped him co-create an excellent manufacturing ecosystem and emphasized that the French principals (at Saint-Gobain) believe in the idea that India can make world-class products competitively and innovatively. Mr. B Santhanam rued his age, adding that he envies youngsters working in today's India. He quoted Benoit Bazin (CEO, Saint-Gobain), saying that India is today uniquely positioned to combine manufacturing, innovation, and digital. According to Mr. B. Santhanam, India possesses talent in engineering, process excellence, complex project management, research and innovation, and digital transformation.
Mr. B Santhanam drew attention to how India, an economy with a per capita income of USD 2,500, is embarking on a journey of conscious capitalism. He remarked that this concept, which has been gaining traction over the last 10-15 years, runs counter to the ideas expressed by Milton Friedman half a century ago – that an organization's sole purpose was generating profit for its shareholders. Not just Saint-Gobain, but many other organizations are today defining their success through the success of their employees and shareholders and putting "people first", he added. In Mr. Santhanam's view, achieving sustainable performance requires "passion, purpose, perseverance, and partnership with the whole ecosystem".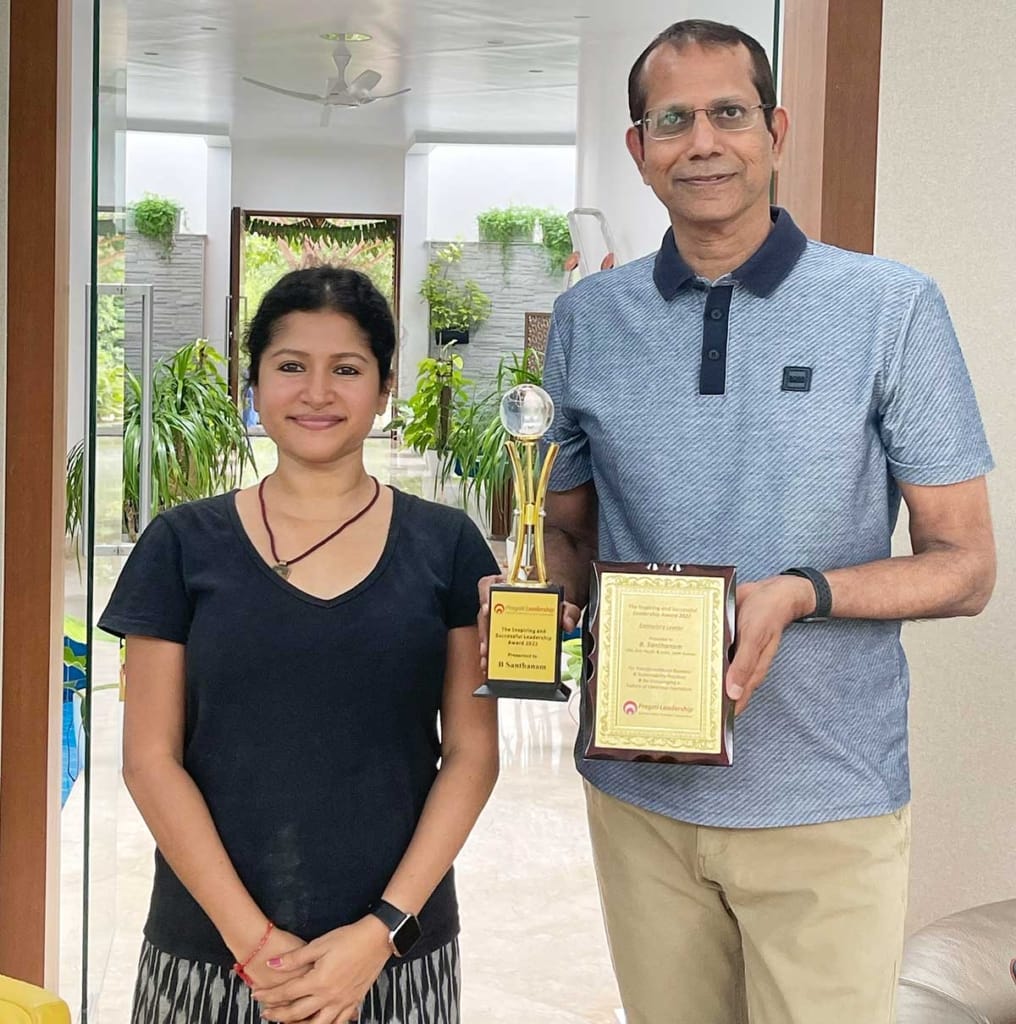 In the four decades since completing his education, Mr. B Santhanam has essayed various roles in Saint-Gobain group companies before becoming the company's CEO for India in 2020 and, in 2021, CEO for the Asia-Pacific & India Region. India, he believes, has provided him with immense opportunities. The Pragati Leadership Award, he said, gives him a boost of energy and enthusiasm "to continue on this path at a time when I thought I would be hanging up my boots in the next few years".