Mindful leader development practices are prevalent everywhere. One of the top leadership development programs launched by Google called "Search Inside Yourself" is a popular course which revolves around wholesome leadership wherein the employees learn about emotional intelligence and meditation. The course teaches you to master your emotions, train your mind and more importantly, gives you a 'balanced awareness' of activities happening around you.
Renowned institutions from Asana to Starbuck and Aetna are also including private yoga and meditation classes in their offices. These companies believe in the positive impact of incorporating mindfulness in their day to day work life and want to offer their employees the best office culture.
But adopting mindfulness and providing a wholesome leadership training is still limited to big-name companies. Why aren't these practices cohesive in the leadership programs in India?
Technically, it is a survival skill which trains the mind to be more focused and cognizant in a healthy and nutritious way. It means to be wide-awake, gentle and reverent in all aspects of life. Such an approach requires efficient training of the mind.
Steve Jobs was well-known for his mindful approaches. The practice requires meditation, prayer, exercise or journaling every day which helps in de-cluttering the mind. This, in turn, elevates creativity and motivation.
Why should we include wholesome approach in our leadership programs?
The mindful and wholesome approach helps us connect with our emotions and passions through meditation, yoga or stretching which also releases stress. As a leader, this approach helps to stay composed and motivated. Mindfulness also helps you feel compassionate towards yourself and others.
In a research conducted by Duke University and Aetna Health Insurance Company to study the effects of meditation and yoga on employees, the researchers found that embracing these practices helped decrease stress levels and pain by 28% and 19% and improve sleep quality as well as productivity by 20% and 62 minutes per employee per week respectively.
Sometimes, we all know the benefits and importance but we are lost in the sea of questions about where to start. So, to help you develop a new approach of leadership, below are few practices that you can follow –
How should we include wholesome approach in our leadership programs?
Connect and Listen to Others Openly Without Judgements


Here, let's take the best real-life example of Mark Bertolini who is the CEO of Aetna. During his initial days, he travelled around the world to meet his employees and understand their hardships. After carefully observing their struggles and doomed circumstances, he decided to shift his leadership approach to more mindful and wholesome mode.

He slowly made amendments in the business and increased the minimum wage, started student loans and health and wellness programs for employees which include meditation, yoga, sleep, diet, and nutrition. His compassionate approach to leadership helped him develop the company from $30 per share in 2010 to $153 per share in 2017.

Create A Positive Ambience


Controlling others always leaves a negative impact on productivity and business. Rather, create and maintain a positive attitude. This approach will help you solve complications in a more productive tactic.Approach things in a positive manner and compliment every employee on smallest of the achievements. This will increase their faith and improve the relationship between a leader and employee, eventually creating a positive and happy vibe.

Grow and Encourage Others


Mindfulness is a recognized approach among successful leaders which helps them cope with stress and creates a better workplace for everyone. Initiatives that support "growing together" take your business on a long journey of success rather than harnessing the feeling of competitiveness.For instance, Google launched gPause – a community where they share problems, solutions, books, resources etc. to help each other out.

Even you, as a leader, can help others by developing such communities to develop and support them for leading a mindful approach.
Using mindful leadership in the workplace
Practising mindfulness and wholesome approach will help you in business to bring about an research conducted by Duke University and also on the personal front. It clears the chaos and trains the mind to follow the order.
We need a community where productivity, trust and relationship flow effortlessly; where working is more than nine-to-seven; where work and life are always found in a balance.
Just like big institutions, we need to comprehend that for high-quality results and better growth, the amalgamation of the traditional and modern approach is quintessential. The solution to lead a new way of development is by adopting mindful and wholesome leadership.
You can view more information on how Wholesome Leadership can accelerate your business progress here.
---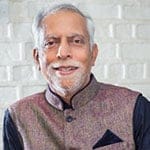 Arun Wakhlu – Arun is a true believer in the concept of One Wholesome World: a world which is joyful, socially just, and healthy for all (including future generations) co-created by communities of people who are living and leading consciously.