A Google search on  the word Leadership yields 113,000,000 hits. Leadership  is one of the most researched areas when it comes to business. Business touches the lives of almost all of humanity. Of the top 100 revenue generating entities of the world, more than half are multinational corporations. The power of Business for good is therefore huge.
Leaders in the world of Business have the potential to create positive breakthroughs for the entire planet. What kind of leaders do we need for this?
The leaders of today need to be different from the leaders of yesterday. Today, business can no longer  see itself as an isolated island dedicated  merely to the creation of shareholder wealth. Business Leaders have begun to recognize their larger role in delivering value to all stakeholders and preserving the environment for future generations. That is why hear about"Conscious Capitalism" which takes care of People, Profits and the Planet. We are also increasingly reading about  business leaders "expanding consciousness" in organizations.
This  is manifested through outcomes like:
Creating a joyful and engaging environment at work
Valuing interconnectedness and working across interfaces in Government and  civil society
Stewardship of organizational resources and
Actively working for an area of social concern .e.g. environment, child rights etc
This sort of Leadership which is based on an understanding of our intrinsic "oneness" and "interconnectedness" is called "Wholesome Leadership" tm. Wholesome leaders actively deliver value to all stakeholders.
What does it take to be a Wholesome Leader?
Leaders, irrespective of their industry, need to be good at creating a powerful vision, inspiring people to follow that vision, thinking strategically through various business options, adding value  through innovation, leading teams and people  and most importantly, being in integrity and acting as role models for  their teams.
As Wholesome Leaders, we also need to be grounded in "Self Mastery". Self Mastery means  both being aware and in control of our attitudes, thoughts, preferences and mental paradigms. It is about the ability to see, understand your mind and its tricks. It involves understanding that we have tools and options for thinking , and having the discernment and awareness to know what to use at the appropriate time.
As  a Leader, it is only when I am helping myself that I am in a position to help and serve others. I can lead others only when I have first leant to lead myself. Self mastery is the ability to make the most out of your physical, mental, and spiritual health. In other words, to be the best you can be. As a result of your efforts, you will be able to help and lead everyone around you.  In order for you to change the world around you, for the better, you have to change yourself for the better, along the way.
As  Business Leaders, self awareness  helps in making the right business choices. Self mastery refers to mastery over self. Being in control of ones emotions, feelings and not letting preferences, biases and prejudices sway  one from making the right decision helps us in Leadership. Paying attention to "self" is the foundational step in Leadership. When we work at the "roots", only then can we expect significant changes to happen in our behavior and our actions. Self-Mastery refers to these roots. When we nurture the roots,we will automatically get the "fruits" which is the  business outputs we  desire.
Self Mastery refers to a number of attributes that have to do with  self awareness and self management. Some of these are:
1. Awareness and Presence:

Being in the now, unblocking all that comes in the way of being fully accepting and present in the moment Awareness is the foundation for self-mastery. Awareness has its roots in the deep understanding of  life and existence. An aware and conscious leader would be able to see the reasons for a problem/challenge and make choices that look at  the larger picture.
All situations in life are inter-connected. What we do in one situation has it implications in another. As situations are interconnected, so are human beings. Being grounded in Awareness helps us to remain centered, calm, and see the oneness in all of life. Presence comes from Living in the now. Being present to the present moment helps us to develop the quality of "Presence". This is not to say that one shouldn't learn from the past or plan for the future.
Remembering that the"now" is the only part of reality that we have to work on helps us to be grounded in awareness. Practices that help to build awareness  include meditation, yoga, reflection, practice of being in the now etc.
2. Attitudes of Abundance:
Attitudes broadly refer to the way we see things and consequently act on them. Attitudes refer to the mental models that we hold about ourselves, work and life. It is therefore abundantly clear that the attitudes and mental models that a Leader holds will shape not just her behaviour and actions but also impact the way she runs the organization.As a leader, if we consciously choose to see "Life and Business" as realm of possibilities, then we create a very different aura around ourselves.
We think big, think out-of-the box and genuinely feel that "all is possible". Along with this is the attitude of  gratitude and appreciation. This is well exemplified by the best selling book "The Secret".Attitudes of Abundance refer  to the attitudes that help us to build self-mastery. It is about being abundance inspired rather than deficiency driven. Working from an inner space of acceptance, appreciation and gratitude.
This helps Leaders to attract abundance and positive outcomes through steadily held positive and appreciative thoughts. Thinking in ways that attract abundance is a conscious choice as a leader. It is not a matter of coincidence that "good things" seem to happen more to aware and conscious leaders.
3. Courage and Audacity:
Courage has been defined in many ways. It is deep faith in self and the universe and the conviction that life  will support what you intent to do. Courage is an attribute that we see in most Leaders. It may be a physical act or a business or people related decision. Having courage and relentless faith enables  a leader to tread  the pathway where others would hesitate.
Having courage does not mean that there is no fear. Courage is persisting despite the fear. Freeing oneself from the outcome, helps in reducing the hesitancy and also the fear. As a Leader, when we live and demonstrate courage, we would  take on large audacious  goals for our organization, live in integrity with our values, work and hire people better than ourselves, develop people to take on our roles, speak up when things in the organization are not aligned with the values.
Without demonstrating personal and professional courage, a Leader would not be able to be effective.
4. Living out ones Values:
Self mastery would be incomplete without a deep awareness and alignment with ones values. A wholesome leader reflects and is clear about  his/her value system – what they hold dear and for which they are willing to stand up. Living out ones values is  a indicator that the Leader has the capacity, conviction and the courage to take the tough road to  success. There would no compromises on Values. Taking tough decisions is  a test of self-mastery.
Where do we start learning the secrets of self mastery?
If you accept things around you, without demand, you already have taken the first step. There are two important factors here.
Once you accept people, and situations, for what they are, you won't waste time and energy with frustration. This causes inner frustration, emotional turmoil, worries, and depression.
Once you change yourself, through positive self mastery, the world around you will change for the better, without much effort on your part.
Self-Mastery is an ongoing journey for a Leader. At every stage in the Professsional Life of a leader, he/ she needs to work on themselves at the foundational level to go to the next level of capability and effectiveness. This is best done by working at the roots of  awareness and building the self-understanding to mature to the next level. Building skills and competencies comes at a far later stage. Business Leaders who understand this mature into effective leaders early enough. Unless one can lead oneself, one can hardly lead others. As the Gita says "Atha Raja,tahtha praja" (As the leader,so the people).
You can view more information on how Wholesome Leadership can accelerate your business progress here.
---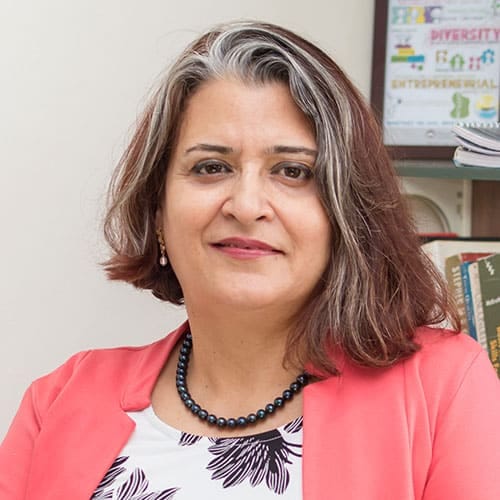 Anu Wakhlu – She is the author of the book Time and Life Management, Co-founder and Chairperson of Pragati Leadership. She is also the Executive Director of Pragati Foundation – that is Anu for you. She is best known for 'making things happen' through her patience and perseverance.