Even before the pandemic hit us with full force starting June'20, the Indian economy was in its worst phase with the growth in GDP falling to an 11 year low of 4.2 per cent in 2019-20. The months of March, April and May saw total lockdown impact daily lives. The worst hit were the economically weaker section of the society, starting a mass exodus from cities to villages of the labour class, daily wage workers, and owners of small businesses. The working middle class was also affected with many losing jobs, or dealing with reduced pays.
The already reduced consumption due the deceleration reached its lowest numbers ever due to the pandemic. This will create a long lasting impact on how business will be run going forward, but for now this was a race against time for survival. Businesses have to not only deal with the economic slowdown but also with the changing shopping behaviour of the customer.
Customer behavior & engagement during the crisis
A Mckinsey report suggests that the customers have responded to the crisis and its associated disruption to normal customer behavior by trying different shopping behaviors and expressing a high intent (65 percent or more) to incorporate these behaviors going forward.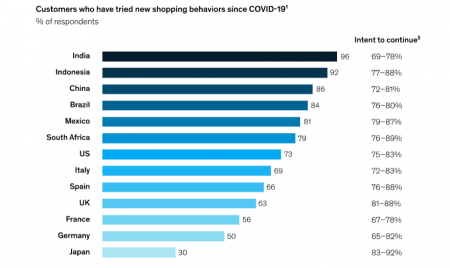 Let us all for a few minutes ask ourselves, how the pandemic and the lockdown has impacted us as customers. How has this pandemic affected our spending capacity, our priority of purchases? How has the pandemic altered our buying behavior; has it introduced us to newer ways of buying and spending and has it created new habits as a customer? If the answer is a yes, then we can safely assume that we are a set of transformed customers. Our needs and expectations have changed considerably in a short span of time.
Businesses who have understood this shift in the customer behavior have re-invented their customer engagement strategy, reframed their message to the customer, aligned processes and leveraged on technology to adapt and thrive in this post Covid 19 world. These businesses are now looking at creating value (price sensitivity), and offering quality. Also, they are stressing on factors like access, convenience, safety (hygiene), and purpose (support local).
So if you are leading a business and responsible for sales, service or operations, how are you going to ensure that you have a profitable business in these trying times? What are the changes you will need to make to fit into this changing paradigm of customer engagement?
Struggling on how to improve your customer engagement, let us help, contact us for more information