Module I: The Foundations of UnManagement
The roots of our current crisis and Man's Hubris
The severe limitation of the human perceptual scheme
The consequences of working from the ego
Deconstructing the false self
What does UnManagement mean?
Module II: The Practice of UnManagement
How does one practice UnManagement?
How does one abide in the Creative Intelligence of life?
The four tools : Presence/Mindfulness, Appreciation, Gratitude and Enthusiasm
Linking Un-management to the practical issues of day to day leadership and management
Break through the fallacy and limitations of our existing ego based paradigm of doership and management;
Enjoy the benefits of working in tune with the creative intelligence of life ; and
Give participants four simple tools to stay in touch with the heart of creative intelligence and un-manage with ease and grace so that all stakeholders and the eco-system thrives.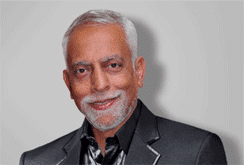 Founder Director, Chief Mentor Consultant, Coach and Facilitator
Arun is adept at facilitating Leadership Development, Organizational Transformation, Inclusive HR Operations and Practices, Corporate Ethics and Ethics in Public Governance, Creative Thinking and Thought Leadership, Training of Trainers, Developing Coaches and Facilitators etc.
Mid and Senior Level Managers.