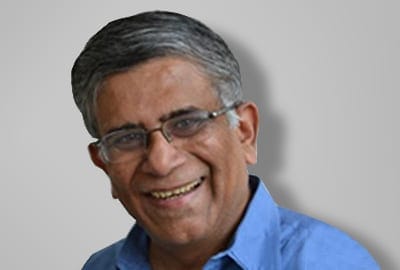 Full Profile
Work Specialization
Subhash's knowledge and skills lie primarily in creating and implementing extremely innovative and effective HR Systems and Practices. Here is a man who adopts a hands-on, practical approach blended with a strong conceptual foundation aided by his vast industry knowledge and experience.
As a HR Consultant:
With over 15 years of experience till date, Subhash has contributed significantly in the areas of Manpower Planning and Staffing, HR policies and systems, Performance Management, Organization Development, Compensation Systems and Training and Development.
As a Facilitator:
He has devised a number of games and exercises on Communication and Team Working. His forte lies in conducting workshops on Creativity and Innovation, Performance Management, Leadership Development, Interviewing skills, Emotional Intelligence and Team Synergy.
Experience
Subhash has overall experience of 40 years that includes HR consultancy experience of over 15 years and HRM experience of 25 years, Subhash had designed programs on Group Dynamics, Creativity and Assertiveness to suit his organization's requirements.
What sets him apart is that he has a unique blend of HR experience in both manufacturing and IT sectors. During his corporate stint, he worked in TELCO (Now Tata Motors), Grindwell Norton, TVS Electronics, PCL Mindware, and Apcosoft Infoway.
Sectors Served: FMCG, Manufacturing, Automobile, Chemicals, Banking and Finance, Retail, IT- ITeS etc.
Customers Served: ACC Limited, Sudarshan Chemical Industries Ltd., Hero MotoCorp Limited, Tata Marcopolo Motors Limited, Reliance Capital Pvt. Ltd, CGI, Bestseller Retail India Pvt. Ltd, Emami Ltd., Harman International (India) Pvt. Ltd, Intec Capital Ltd., Pidilite Industries Limited, Prescient Color Ltd, Wirtgen India Pvt. Ltd., Upside Learning Solutions Pvt. Ltd. etc.
Academic Qualifications
MA, MBA and LLB from Pune University.
Persona
When you get to know Subhash, you're bound to discover a man blessed with unmatched insight into the specific performance/attitude gaps in the industry, which he addresses and bridges through his training. No wonder then that Subhash has been a visiting faculty at institutions such as IIM-Bengaluru, HRD Network and Ahmedabad Management Association, besides serving as the president of National HRD Network, Bangalore during 1993-95.